Just so swift is this year's end. How quickly Time seems to be casting its hours into days! Surely it can't be 365 days soon! The Universe must have made a mistake, I think. Yet, as I write this, I am filled with joy for this year. What a beautiful year I have had. Filled with love, laughter, a little bit of pain, anxiety, worries, and the warm, cozy feeling of being led into love by a Universe that I know hugs me tight. I have never read as much in my life as I have this year. Yesterday, I spent a good two hours on Skype with my brother in Germany, Jorg. "How do you read so much?" he yelled. Ok, not yelled. But well, a quiet Jorg doesn't exist. I don't know. I just seem to find the Time to read. And that's when I realized one of the truths I have learned this year – if you want to find Time, you never will. But when you know you have Time, you will stop the searching.
| | |
| --- | --- |
| Books read in October | 14 |
| Number of pages | 3,394 |
| Average book length | 242 pages |
| Average rating | 3.5 |
| Highest-rated book/s | Living Beautifully With Uncertainty And Change: Pema Chodron |
Favorite Quote: "When we resist change, it's called suffering" -Pema Chodron
Contemporary Fiction
The Girl Who Takes An Eye For An Eye: David Lagercrantz
Rating: 2
Ok, confession. I am a fan of Lisbeth Salander. There! I have said it! It's out there in the open! I have loved this quirky character ever since I read Stieg Larsson's Millenium Series. Which is why I ran to the store to buy the latest version of Lisbeth when it released. But disappointment lay in store, as it does with all great expectations. This was a disappointing, damp squib. Not that I was looking to compare this to Stieg Larsson, but somewhere, the action was just not there. Lisbeth Salander barely appears in the book, and her character is not as fully developed as you wish it should have been.
The Last Days of Rabbit Hayes: Anna McPartlin
Rating: 3
I think I am in the minority on Goodreads in not liking this book. No, it's not because the story doesn't tug at your heartstrings, but because I was put off by some lines. It started at the beginning when the poor priest is trying to console the Mom, who retorts with this: You've never been a husband or father so, God love you, Frank, of all the people to try to comfort me, you really haven't a clue." Really? We need to have some tags to comfort?
And this:
You could find something to buy in an Afghan desert,' Rabbit said.

Marjorie grinned."Probably me own life, knowing those mental cases."
An entire geographical region slotted into "mental cases." And there was more. I just read it to the end because I didn't want to abandon one more book. Sigh. I am guilty of that, and that guilt bears heavy when I think of all those lonely books, waiting for me to pick them up.
When The Emperor Was Divine: Julie Otsuka
Rating: 4
I remember reading 'The Buddha in the Attic' many years ago. Julie Otsuka writes with a lovely, lyrical touch and 'When The Emperor Was Divine' has all the hallmarks of her exquisite writing.
I hadn't really known much about the Japanese evacuation during the Second World War. It's an event in history that seem to be dwarfed by other events. All the more reason that it is important to read this book. Here's the thing – please read books that dwell deep into the culture of another country.
Many times, I am asked why I don't travel as much in India as I do abroad. I find it funny that we reduce traveling to some lines on some map. But on a deeper level, I travel because the more you see outside your narrow vision, the keener your world becomes. Read for the same understanding. "Time-pass" books are great – but there is a world out there in the books that begs us to open our minds. Perhaps, if we all read more books about each other, the world would be a less violent place.
The Burning Girl: Claire Messud
Rating: 4
What a deceptive title! I picked up the book thinking that this is one of the "psychological thrillers" doing the rounds. This was a thriller too, but not in the way you think. I was hooked on the book's central premise of friendship, but I was more hooked by the taut, emotional intensity that Claire Messud imparts to the novel. Some have said the narrator speaks too wisely for her years – that it's not really the voice of a teen. But I think words are voices – and the voices change with the emotion.
And there are no words that can express our emotions fully enough.
I read this in one sitting and is one of my favorite books this year.
Poetry
Wild Embers: Nikita Gill
Rating: 4
Having read Nikita Gill's earlier set of poems, I didn't think twice before picking up the paperback at my favorite bookshop. As with the earlier poems, Gill traverses the Universe, capturing its stars, and winking at the scars the sky has woven through time in deft, breathless writing that can sometimes see through your soul.
Some of the poems get a bit repetitive, and I was amazed at the typos – surely, an editor should know the difference between "its and it's"- but at heart, here is a woman writing with an open soul. In today's world, that is more than welcome. More than that, something to be embraced.
World Literature
The Fishermen: Chigozie Obioma
Rating: 3
An absorbing story, 'The Fishermen' only reaffirms my admiration for Nigerian authors. Obioma has a deft touch to his narrative, and although I could barely find the happenings in this book plausible, his writing eventually makes you believe in the characters.
I must foot on the African continent soon – it is inconceivable that I haven't been to a single country there.
Non Fiction
Past And Curious: Stanley Carvalho
Rating: 3
Those who have grown up in the city of Bangalore would love this book – it made me think of a 101 things that lay glistening on the banks of my memory.
It could have done with some tighter editing and that is the only reason I gave it 3 stars, but it is a precious collection of stories that any true-blue Bangalorean should be proud to read. Plus, it is not often that I get to converse with the author while reading his book!
Living Beautifully With Uncertainty And Change: Pema Chodron
Rating: 5
What can I say about Pema's teachings that I haven't said before? There is nothing that I can say that can match the beauty of this book. I have read quite a few of Pema's books by now, and this is by far, the most practical of those.
Not that the others were impractical, but here Pema is vividly honest, interspersing her own life experiences with many practices that can make the task of living more joyful and utterly simple.
Young Adult
The Hate You Give: Angie Thomas
Rating: 3
One of the most important books I think I have read so far this year. THUG deserves all the attention and rave reviews it has got. Why am I giving it a 3 star? Only because I couldn't get my head around all the slang in the book – the writing seemed to be filled with a lot of 'shit' and well, shit happens, we know but I loved the story and the intensity of it.
Children's Literature
The Mouse And The Motorcycle: Beverly Cleary
Rating: 4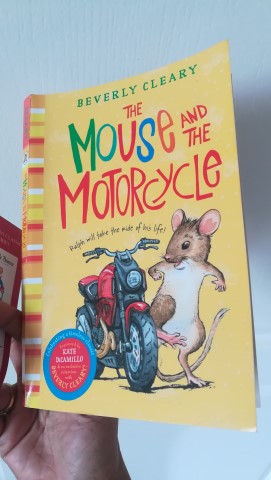 I have a lump in my throat when I think of this book. This was a birthday gift from the only person in the world who knows that I identify myself as a mouse. The only person who knows that underneath all the bluster and bravado I am just like a little mouse who is vain about its tail. Ralph is an adorable mouse, and I fell in love with him. How can I not identify with my spirit animal? 🙂 Thank you, Birdy for the most adorable gift.
I can understand why this story has captivated generations of children. I am looking forward to reading the next two in the adventures of Ralph. Here is where a writer knows how to spin a character -in Ralph, we have at once a naughty, curious, yet fun-loving, adventurous and caring mouse. Yes, that describes me? Smile.
Fantasy
Snow Like Ashes: Sarah Raasch
Rating: 2
I picked this book up because my friend was reading 'An Ember in the Ashes,' and I felt like being drawn into that strange world of blood, gore, honor, and loyalty all over again. The premise was fascinating enough, and the book is marketed as one that should appeal to fans of Tahir. It was a fast read, but it didn't quite have the pull that I expected of it. All that world of magic just crumbled around me, and it was only the roaring ending that brought me awake. Would I read the sequel?
Classics
We Have Always Lived In The Castle: Shirley Jackson
Rating: 4
A really bizarre novel – but one that I couldn't put down either! I am not sure I understood if I was reading a supernatural novel or one with deranged characters. In the end, it doesn't matter. The story is what matters. I know that I will go back for some more from this writer.
The Vendor Of Sweets: RK Narayan
Rating: 4
I happened to be reading this book while I was visiting the same house where RK Narayan penned his books. 'The Vendor of Sweets' made me chuckle in a few places – there is the typical Narayan wry wit and the philosophical undertones that characterizes his work. An enjoyable read.
The Moomins and the Great Flood: Tove Jansson
Rating: 4
There aren't too many books that make me go 'aww.' This one did. Awww, I hadn't even known of the existence of Moomins until yesterday. These are short, delightful reads – I wish mine was an illustrated one, though.
---
That completes another beautiful month of reading for me. November, I suspect, will be a less productive month. But it doesn't matter because I have Time. 🙂