I
am not a person who believes that soulmates are only of the romantic sort. No. To me, soulmates are anyone with whom we have an intense soul connection . Such soul connections are not always easy.
Having a soulmate is not about looking at the stars but gazing at the embers in the ashes of each other's soul – nodding to the neurosis in each other and nudging the beauty in each other. It's a beautiful intensity that you know you don't share with too many others.
I am not the sort who struggles with words – but I am struggling as I write this. Back in June, I was struggling with life itself. I was struggling to eat, struggling with sleep, and self-destructing as I tried to piece together my soul in a way that threatened my own sanity. No one knew about it, except for two people. One person who knew about it, she chose to walk away. No, run away is the word, while screeching curses at me like a raven that caws at midnight.
And then, there was another who knew about these battles. Who stood by, away in a different country, until she could stand by no longer.
As June waged a cataclysmic death into oblivion, July lit up my life. That's not my favorite month. No. Yet, I will always remember July 11 now with a certain joy instead of the pith of darkness that I used to see it with. I will remember standing outside the office of my ex-employer, waiting for a cab to drive up with one of the most precious people in my life. We hugged even though I am not big on hugs, but this was not an ordinary moment. No. It was brimming with the unsaid moments of a thousand pains – of angry words that coalesced into love and now dwell peacefully at war with each other.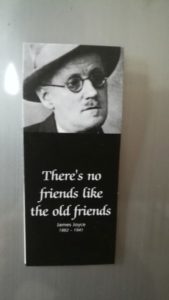 What joy I have lived through since then! What annoyances! Because, yes it is true, soulmates are also those who push our buttons the hardest, the ones who see the withered skin slough off our skins. I laughed. I grimaced. I argued. I fought. I lived a life that I had almost forgotten. I lived a life that I had forgotten was beautiful. I lived.
Today, I stood outside the Metro station, bidding a goodbye that is not farewell at all to the one friend who I know now won't ever leave me. I hadn't thought that distances matter, but they do. Dublin and Bangalore is not Mumbai and Pune. Time zones separate us. Pricey tickets drive us apart. It had been three years since I had spent time like this with my friend. And I don't know when I will do that again. Memories, that old crony, splashed his canvas across my mind. I fought back tears. My apartment lies empty with my thoughts. I am a lover of solitude, and it's not loneliness that has ached its way into me. No. It's just the sheer impossibility of missing someone who you know is a part of you. Because, after all, what do you do when you wrench yourself piece by piece out of the shells of your heart?
So, I sit here, not wanting to look at the sofa by the window. I don't want to see the empty coffee filter. I don't want to see the regional language books from India that I know I would have never bought. I don't want to see the Jembe wireless speakers that I know I won't use much anymore. I don't want to look at the exercise mats. I don't want to see the dumbbells, especially the "littles" that I used to taunt my friend with. I know I don't want to see, yet I see them all. I see the beauty and the mess that is we – the friendship that is unlike any other.
It all began on July 11 when Birdy finally came home.
And we journeyed to..
Chennai where we remembered our past and our silent friend
Kanchipuram for the idlis
Begur, Bannerghatta, and Kolar in Bangalore, thirsting after history
Thirupugalur for the rural feel
Tranquebar because we must beach
Turkey because we must gawk at mosques and churches and hug our extended family
Together, we read books. We planned gourmet cuisines. We created itineraries. We watched movies. We went to trade fairs and workshops. We bought many many books. We laughed with the security guard. We giggled with our parents. We took walks to see skies like this:
We formed two fast friendships with these cute characters:
I lost hair and grew memories. Those memories that will now invade me softly when I dream, those memories that will urge me to surrender to them. I have only these memories. I have so much more than these memories.
As I write this, Pema Chodron whispers to me not to resist this change. And so, I won't. This beauty, this emptiness, this mad chaotic mess just is. And I wouldn't have it any other way.
Thank You
For all the memories, thank you. There is no me without you, my soul friend. MJJM.