What a beautiful month September was! But then, September has always been kind to me. I love this month for the gentle changes it brings – it's not quite the end of the year, but it sends a reminder of the months gone by, the fallen leaves of the detritus of the past. It's a month that has given me so many beautiful memories; those that I want to hug and share, and those that I want to lay aside in a corner of my mind – twinkling stars of moments that light up my life.
Coming to the books I read in September, it looks like I read less with just nine books, but in reality, in terms of the number of pages, it was the most after August. I was away traveling in Turkey for a fair part of the month, and having friends along with books just made the reading so much more pleasurable!
| | |
| --- | --- |
| Books read in September | 9 |
| Number of pages | 3136 |
| Average book length | 348 pages |
| Average rating | 3.6 |
| Highest-rated book/s | The Inexplicable Logic of My Life by Benjamin Alire Sanchez and The Glass Castle by Jeannette Walls |
Favorite Quote:

"Every book, every volume you see here, has a soul. The soul of the person who wrote it and of those who read it and lived and dreamed with it. Every time a book changes hands, every time someone runs his eyes down its pages, its spirit grows and strengthens."
― Carlos Ruiz Zafón, The Shadow of the Wind
Fantasy
The Angel's Game: Carlos Ruiz Zafon
Rating: 3
If you love books and haven't read Zafon, then you are missing something. But this second in the series after 'Shadow Of The Wind,' was a bit of disappointment. Carlos sure knows how to spin a story, which is what kept me turning the pages of this book, long after it ceased to make any sense. I had no idea what really happened towards the end, and I came back bewildered. For sheer storytelling I have rated this 3, but not because I understood it.
The Prisoner of Heaven: Carlos Ruiz Zafon
Rating: 4
Zafon picks up the magic in this book. The final act in a series I have come to love. Carlos Ruiz Zafon sure knows how to spin a tale. I loved this book, and it left me wondering if there would be a sequel to this as well. While it can be read as a standalone, it makes better sense to read this as the trilogy in order. What worlds we can inherit through words!
Young Adult
The Inexplicable Logic of My Life: Benjamin Alire Sanchez
Rating: 5
I continue to read more of YA, a genre I had previously shunned until this year. There is more to YA than John Green and mysterious teenagers who all want to kill themselves. Sanchez weaves a beautiful tale of friendship here. And am I not a sucker for anything friendship-related? I read this book in the most bizarre manner. For some reason, my Kindle opened this book somewhere towards the end – I didn't realize, thinking that this must be some kind of new-age kind of writing, where the story is revealed later.
Only after I finished the book did I realize that I hadn't read the beginning or the middle! So, there I went back and read it the way it was supposed to be! And I loved it! Forget the gay angle – the real story here is about uncommon families forged on friendship. The story almost had me in tears, and that is rare for me.
Everything Everything: Nicola Yoon
Rating: 3
Reading this book in Turkey maybe made me rate this higher than I would. It was a fast read and one that seemed to be written for today's generation in mind. There is only so much angsty-teen romance I can take.
The Sun is Also a Star: Nicola Yoon
Rating: 2
I am in the minority on Goodreads on this one, but this book was way too cheesy for me. I am all for love – but the whole back-and-forth "let's meet our horrible families who are going to hate our doomed love" was just too much for me. It didn't seem credible enough, even though Nicola Yoon kept sprinkling enough words about the Universe to reel me in. And let me not even talk about the ending.
When God Was A Rabbit: Sarah Winman
Rating: 3
I am one of the few on Goodreads who didn't give this book a great rating. That's because I found the prose an ache to my eyes, and jarring on my soul. I read this book in Turkey, and I don't remember anything else about it.
Children's Literature
The One And Only Ivan: Katherine Applegate
Rating: 4
Just as with YA, I continue to enrich my reading by reading more of Children's Literature. I vaguely remembered that this book was mentioned in an email conversation with some friend – and then I discovered it again while deleting some Excel files on my Google Drive.
In need of a light read, I picked this one up, and I was not disappointed. Ivan is a character you can't help but love, and the story leaves a gentle imprint on my mind.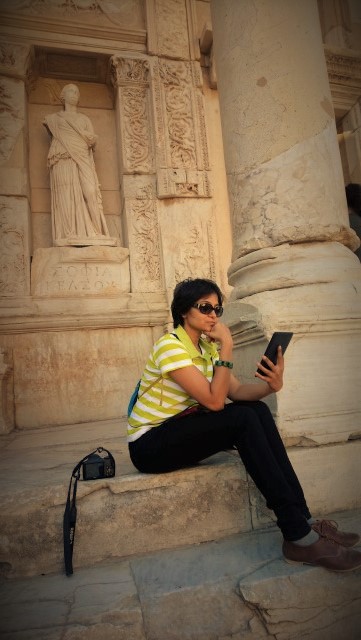 Non Fiction
The Glass Castle: Jeannette Walls
Rating: 5
One of the most engrossing memoirs I have read in recent years, written with unabashed honesty and a poignancy that made me cry. This is a story of what we might call a flawed family. Yet, a family that learnt to love, and was so human.
Hair: Scott Lowe
Rating: 3
Being stuck with a curious friend has meant that I too have become more curious about the trivia of the world we live in. I chanced upon this book at my favorite bookstore and picked it up immediately as a gift for the curious friend.
Fact: we have always wondered about the obsession with beards and long hair in religion. I thought this book would answer those questions, and it largely did. Scott Howe also is quite funny in places – overall this book is a little treasure that can shed light on our messy, chaotic world.
---
Messy. Beautiful. Chaotic. September was just that right kind of month for me. Fitting that I, a number 9 person, read 9 books in the 9th month of the year.