I have always been a runner. I love the easy rhythm of running, the way our minds can be aware yet lost at the same time. But last year, I fell in love with walking too. I loved the simplicity of it, the quiet condensation of each moment on your mind's memories, and the calm of it.
Walking is slower. Invites more contemplation and a closer look at life around us. So much so that these days, if I travel somewhere new, I just walk around. I have no set plan. I loved walking in Paris last year, arriving at serendipitous ways to destinations that were never on any GPS pin. I loved walking into the unknown, caressing the moments that slip into our hands with delight.
When I walked across Spain last year, I was in thrall with all the little things I noticed. I saw a beetle scurry across my path. I bent to see a dandelion struggling against life. I would pause to whisper to the trees. I would lean against the bark of their wisdom and inhale that poetry. I would allow my weary feet to feel the grass, that dewy tangy wetness of life itself.
Once I got back to India, though, I stopped walking. I don't know how or why, but from walking 30km a day, I started taking the car to the nearby grocery store. Later though, I resumed walking in the evening, a gentle amble with no time or place again in mind.
And then, this year happened.
Just like that, we all found ourselves behind the doors of our anxieties, shut within the walls of our mind, and physically restrained from going out. I didn't miss running. I missed walking. I could run on the treadmill, but I missed breathing in the air, virus-laden or not. I missed my flowers. I missed the leaves that fluttered around me. I missed every step.
Over the last few weeks, though, Bangalore has opened up. I can go outside again though I do that with restrictions, considering I stay with my parents currently. I don't run much outside, but I walk.
I walk in the evenings, choosing a calm road that is not crowded. But then, I realized I need not walk alone.
Before our lives changed incomprehensibly, most of my meetings with friends involved a restaurant or a pub. Or a visit home. All three of those options are practically ruled out now.
So, I invite my friends to walk with me.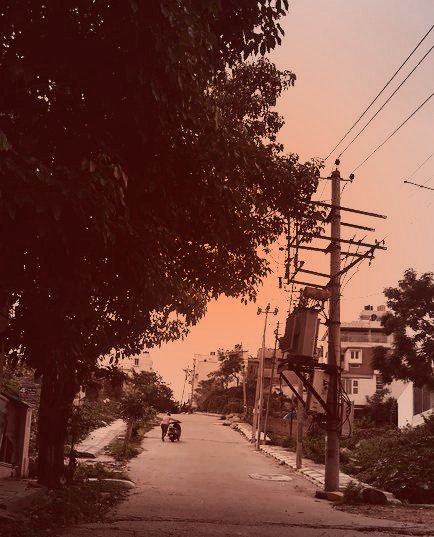 And they come, and we amble.
The other day, Mr. SB came along. We ambled along with no purpose, getting lost, and then finding ourselves. We wore our masks all the time.
We maintained a distance even though we found it was rather difficult to consciously keep veering away from each other. We are human beings who are trained to seek contact, I realize, even in the spaces between us. The mask makes it difficult to enunciate our words clearly. We sometimes can't hear each other. But it's ok. We walk. No one looks at their phone – common if you are sitting across each other in a restaurant. (And something I absolutely abhor).
We listen, therefore. We are more present.
Another day, Mr. Top of the Morning came for my walk. Instead of ambling along aimlessly, we chose one road to walk up and down. Shaded green loomed over our heads. The breeze was gentle, a warm caress. We sat on a bench and spoke about our lost loves for a while. We don't know when we smiled or grimaced. We couldn't make out with our masks.
But we walked in rhythm. The conversation matched our steps. We trudged footsteps through our lives' memories.
Just like that, I found the poetry in walking again. I found the ease in just talking to another human being without the contraption of a menu or a drink. This was our relationship condensed to its essence – to just be with each other.
As the months go by, perhaps, we all may frequent more restaurants. Perhaps, more of my friends would want to meet in the ways we knew. But I hope not.
I hope that we can continue to walk together.
Because there's so much magic when we just walk in step. One foot over another. And we all need as much magic as we can.
Walk with me. Will you?