How did September almost come to an end? I shake my head in disbelief. This can't be happening. Has the world somehow shrunk Time? It seems that the days are running shorter and I am dreading the end of each day, knowing that somehow, inexorably Time is weaving its spider's web over my life, entangling me in its mesh. I wished to stop Time, but I know that of all the things I wish for, that one wish is not going to come true.
In August, I read the most I have this year. Not in terms of the number of books, but in terms of the sheer volume of pages. Most of the books I loved – and it brought me happily out of a book-reading slump.
| | |
| --- | --- |
| Books read in August | 14 |
| Number of pages | 3,349 |
| Average book length | 239 pages |
| Average rating | 3.8 |
| Highest-rated book/s | Plainsong and Eventide by Kent Haruf/The Wisdom Of No Escape by Pema Chodron |
Favorite Quote: "Our neurosis and our wisdom are made out of the same material."  – Pema Chodron, The Wisdom Of No Escape
Non Fiction
Hunger: A Memoir of (My) Body: Roxanne Gay
Rating: 3
Probably, this is the most-acclaimed memoir of this year. Roxanne Gay is an internationally known novelist, and for her to write with such candor of the bare bones fight she has with her body is something I could only be in awe of.
As a book, I found the pace slacking, but this is an important book nevertheless – to be comfortable in your own skin, and to cherish the body you have been given -what greater gratitude is there?
The Wisdom Of No Escape: Pema Chodron
Rating: 5
The last Pema Chodron book I have and I feel strangely bereft. As with her earlier books, the theme of her teachings remain the same – to move through our demons with gentleness, to practice compassion, and to remain eternally grateful for this one, wild precious life that we have.
Smile at Fear: Awakening the True Heart of Bravery: Chogyam Trungpa
Rating: 3
I missed Pema. So, I ended up reading the next best thing after her. Or so I thought. Chogyam Trungpa was Pema Chodron's teacher, and while I could understand where she got her inspiration from, the writing here was quite dry and I just could not connect with the book.
Contemporary Fiction
Plainsong: Kent Haruf
Rating: 5
Ok. I have a new favorite author to rival my long-held love for Adichie. Kent Haruf – ah, I wish he were alive still to write some more of these gripping, emotionally taut novels! Read his books. Please. At once!
Eventide: Kent Haruf
Rating: 5
This is the second in the Plainsong series. You can read these books individually too, but they make sense if read in order. Kent Haruf's stories of loneliness, courage, and incomparable beauty draw me into his world each time. Eventide is another classic, a beautiful tale of redemption and quiet strength. Don't expect anything earth-shattering, but expect the quietude of life's moments in words. Haruf is not quotable – you can't create beautiful memes to show off your social media skills from his words – but he is storyable, memorable.
Where You Once Belonged: Kent Haruf
Rating: 4
Kent Haruf has me in a bind as always. He builds up the suspense masterfully in this short novel, creating in Jack Burdette a character that no one could possibly like yet you are intrigued by.
Exit West: Mohsin Hamid
Rating: 2
This was the book I gave the lowest rating for this month. I had been looking forward to reading Hamid after having fallen in love with 'The Reluctant Fundamentalist.' But 'Exit West' lacked the drama and urgency as well as the sheer emotional connect of the earlier work.
World Literature
Beartown: Frederik Backman
Rating: 4
A book about ice hockey? What? What does ice hockey mean to someone who hasn't seen much of snow all her life? But there lies the genius of Backman. He manages to weave a story that still keeps you interested despite a landscape that is all too foreign.
The book has the same quirky characters that fans of Backman would have come to love, and who, I admit, I also have come to love.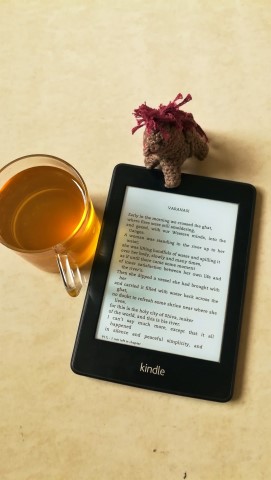 Poetry
A Thousand Mornings: Mary Oliver
Rating: 4
What is it about Mary Oliver that makes us just forget the world for a while? With gentle care, Oliver makes me wish for a thousand mornings where the sun dapples light, and I can look up at the sky weaving its footprints across Time's aging face.
This was a slim read, but there were such passages of breathtaking beauty:
I go down to the shore in the morning

and depending on the hour the waves

are rolling in or moving out,

and I say, oh, I am miserable,

what shall-

what should I do? and the sea says

in its lovely voice:

Excuse me, I have work to do.
How can you not like that? I was feeling miserable and then I was immediately transported to this gorgeous world – healed.
Young Adult
If You Could Be Mine: Sera Farizan
Rating: 3
I came across this book in a list of Top 100 YA Books. I was intrigued by the story of a forbidden romance in Iran. Being gay in Iran? Sounds interesting, I thought, and it certainly was. It's the kind of book you can devour fast in one sitting. And then, you just forget about it.
Before I Fall: Lauren Oliver
Rating: 4
This is the YA version of 'Groundhog Day.' Samantha lives the same day 7 times, in different ways, but all leading to the same end. Ah, I won't reveal more, but this was a better YA novel with no sappy romance to ruin it.
Children's Literature
The Borrowers Afield: Mary Norton
Rating: 4
Mary Norton has become one of my favorite authors. Her Borrowers series is quirky, intriguing, and just plain heart-warming. I read the second in the series, where Arriety and her family find themselves out in the fields with a mixture of concern for them, and laughter at their travails. If you don't like reading, try reading this series. I am sure you will become enamored by the world that Mary Norton has painstakingly created.
All My Friends Are Still Dead: Avery Monsen
Rating: 3
I chuckled over the illustrations in this book. I am not sure this is Children's Literature, really, because there is a dark morbidity to the book.
But I will always remember this book. After all, who can forget a book with a title like this?
Ammachi's Glasses: Priya Kuriyan
Rating: 4
Such a beautifully illustrated book! This was my first picture book without words. You can read it again and again and find little things that you would have missed the first time. An utter delight!
That completes my round-up of August. Now, in a few days, I would have to think about the books I read in September! Time! Is there a lid for it?