I had a break from all work for about five days in April. I was away in the Maldives where I spent a lot of time by the sea, soaking in some sun, and absorbing a lot of words. Even now, when I close my eyes, I can feel the colors of the sea in the Maldives – the turquoise shimmering of the blue waters a soothing background to the books that touched me.
April was a good reading month for me. April is the cruelest month, according to TS Eliot. But two people I love dearly were born in this month, and how can this month be cruel? It was beautiful.
| | |
| --- | --- |
| Books read in April |  14 |
| Number of pages | 3,556 |
| Average book length | 254 pages |
| Average rating | 3.5 |
| Highest-rated book/s | A Pocketful Of Crows by Joanne Harris |
Fantasy
Children Of Blood And Bone: Tomi Adiyemi
Rating: 2
Skies! I wonder if Sabaa Tahir has read this book. I really wonder. Although Tomi Adeyemi says that she was 'inspired' by Sabaa Tahir's 'An Ember In The Ashes,' I was struck by just how much of the inspiration veers towards being almost similar to the fantasy work of Tahir. One of the most awaited books of the year, I picked this one up almost immediately after its release. I love literature from Africa, and a YA Fantasy novel from Nigeria? That was a first.
Yet, I am in the minority on Goodreads in not liking this book. I felt that much of the story line was contrived, and the invention of needless words such as lionnaire, cheetahnaire were unnecessary. The action moved at a fast clip, but I had a faint headache as I neared the end of the book because I just wanted it to end. The magic that is sprinkled throughout the book was too complex, and I missed the gentle world of Kelly Barnhill that gave magic that charm without the blood and gore and almost unbearable complexity of this book. I know that I won't certainly read the sequel. This is a book that was written keeping a movie in mind, I think. No offense to the writer, but let's just say that the book and I didn't become friends.
A Pocketful Of Crows: Joanne Harris
Rating: 5
What a mesmerizing book Harris has written! I was drawn to this book because of the title. I love crows. And a book that promises a pocketful of crows? Count me in! Because I love pockets too! This is not your regular fantasy, though. There is a deep, underlying shade of darkness – it is part fable, part fairy tale, and mostly a revenge-romance story.
I was taken to the world of the traveling folk – where the hawthorn tree hums, and a white-headed crow is a guardian to a brown girl who is able to enter the bodies of vixens, foxes, and a magpie or a mouse. Harris' narrative pace never slackens. You really do believe that there exists this world of dark hope, sinister charms, and an old-fashioned virtue called keeping your promise. It was the ending that had me confused a bit, but I love the book nevertheless. One of the rare gems in fantasy that is not predictable!
Poetry
Winter Hours: Mary Oliver
Rating: 4
Every time, each and every time, Mary Oliver comes to me as a balm for the wearied reading soul. After suffering through YA fantasy, I turned to Oliver to give me relief. And she did. I was immediately transported to a gentle world – a world where I can read essays on spiders, on walks in the woods, and wonder about my favorite poets – Edgar Allan Poe and Whitman.
There is not much poetry here in the classic sense. But there is poetry in every word that Mary Oliver writes. In her is an unfathomable love for nature, for the things that move us, and a mystical glimpse into a life that is well-lived.
Non Fiction
The Compassion Book : Pema Chodron
Rating: 4
The Compassion Book contains the 59 lojong teachings that form the core of Pema's teachings. These slogans are meant to be used together with the tonglen practice. While all that sounds like this is some sort of book that makes sense only to a Tibetan, that is not the case at all. As with all of Pema's teachings, these are easily accessible to anyone, regardless of their affiliation to any religion. Pema suggests picking up any slogan at random every day and to remind ourselves of it through the course of the day. That's what I have been trying, except that I quite don't remember it through the course of the day!
It takes practice to understand the truer essence of the slogans. An essential part of your collection if you are a Pema Chodron fan like I am!
Heart Berries: Terese Marie Mailbot
Rating: 3
​I have this problem – I always end up not liking highly rated books or books that are being talked about. I don't know if I bring with myself the fallacy of expectations or if it is just the books themselves. In any case, I am not sure if I approach such books with the clear, unbiased mind they require.
'Heart Berries' is searing, raw, and intense – an explorative journey into the ravages of the ugly crevices of our soul.
The non linear structure made it difficult to follow but the truth has never been as raw and vulnerable as here. Exquisite, lyrical lines about pain and the immense courage in portraying that pain makes this book stand apart. apart. Some of the rawness can sc​ald your skin, rip apart the facile words of self pity we surround ourselves with, and the pithy words of wisdom we mouth, thinking we know best. Words are our stories. The stories are supposed to heal our pasts. But. There is no catharsis here. The truth is just the heart lying open, torn aside by the impervious hands of uncaring people, abandoned by its loves, and gasping for breath even as its life ebbs away, one breath of blood at a time.
The Moth Presents All These Wonders: True Stories About Facing The Unknown: Catherine Burns
I first heard of The Moth when I came across an article in the New York Times. Storytelling is a dying art, I thought. But not if Catherine Burns has anything to do with it! In December last year, I visited a village in Nagaland. The Angami tribe there proudly showed me their 'evening entertainment'. On a little platform, every evening, the children and adults alike gather to listen to…stories.
Storytelling is not dying. No. No. And as we read more, we know that all writers are relating their own stories – fiction or non-fiction. Our life is a story – with every day, we stitch our words onto the fabric of our skies, and when our life is done, are we going to tell ourselves that we told a damn good story? Would our life's quilt of words shimmer on Death's sky?
The stories in 'The Moth' are curated – they are not random expositions. They are 'directed' to bring forth that one denouement, that point that can shake you to tears or change your perspective. Many of these stories are from 'celebrities' – yet when they talk about their vulnerabilities, you realize how frighteningly closely we are all connected to each other in our foibles and follies. To be vulnerable is the greatest gift we can give ourselves – and each of these stories are vulnerable, dealing as they do with abuse, trauma, abandonment, love, grief, and forgiveness. I learned with wonder that it takes nine years for a satellite to reach Pluto. I learned with wonder in my favorite story that you can really send Christmas presents, and eventually hug your daughter's murderer. How petty our own grudges seem! These are stories about courage. About facing the unknown with grace, love, dignity, and compassion. These are stories that need to be told. These are our stories.
Amla Mater: Devi Menon
Rating: 4
Back in November 2016, I visited London ostensibly for a trade fair, but more to reconnect with my friend. We hadn't spoken during a horrible period of estrangement, and when we met, we were still awkward around each other, trying to work our way back into the friendship. I ended up staying in London at my friend's sister-in-law's apartment. That sister-in-law who showered me with hospitality is the author of this book. I ended up stupidly asking in my nervousness the one question I hate: So, what do you do? To which, the author replied, "Oh well, I do some IT work during the day. And I am working on sketches for a graphic novel." The last was thrown in so casually that it didn't really register. I didn't ask more, and just sipped my cup of tea.
Now, when I was given an ARC of 'Amla Mater,' I was immediately struck by the illustrations, which are vivid even without color.
Devi Menon took us on a childhood romp, through memories of the past, and all the while weaving in the present. Through this, she also traced the friendship between her and Mala. There is no obvious linear progression, and that might be disconcerting to some readers. It didn't put me off, though. I enjoyed the journey through the past, and when it comes to memories, I am a sucker for those. This is a sweet little gem – a bit like ice-cream candy on a warm London evening.
Contemporary Fiction
I Do Not Come To You By Chance: Adaobi Tricia Nwaubani

Rating: 4
I am in love with Nigerian literature. The rich variety of work that is coming out of this country boggles my mind. Adichie is one of my all-time favorite writers ever, but I keep discovering new gems.
If you have had an email account, then you must surely have received one of those mails that promise you a million pounds or USD if you were to act as the "trusted beneficiary" for some poor Nigerian prince or a struggling businessman. These mails later came to known as the 414 scam, based out of the Nigerian penal code for fraud. Nigeria is not the only country to have had been a part of these mail scams- but it has been the most infamous. The 414 scam is the focus of Adaobi's book. At the time this book was written in 2009, these scams were still in the news. Now, they are dying out. But what I loved about the book is that Adaobi has spun a tale that at once reveals Nigeria's struggles – there were so many times that I felt that Nigerian culture is so similar to Indian culture. I could identify with many of the customs, traditions, and even some sentences were eerily similar to what I have heard in Indian families.
I feel I have traveled to Nigeria and back, so intimate was Adaobi's portrayal.
Marriage Of A Thousand Lies: SJ Sindhu
Rating: 3
I have been blessed with wonderfully liberal parents. The sort of parents who have grown with me over the years, changing their judgments and their ideas of me even as I have changed. I often joke with my friend that my parents won't bat an eyelid now for anything I do. Yet, too often, we put love on strings, making ourselves the willing puppet to its whims. We think that parental love is unconditional. It is not. We bring up children telling them that we care only for their happiness. Yet, the idea of that happiness remains with us. We define and set that. We tell our children: I only wish the best for you. We fail to understand that the 'best' is merely our idea of the best.
When I read SJ Sindhu's heartbreaking story of  broken love, I was struck by the similarities between Indian and Sri Lankan culture. SJ Sindhu's narrator, Lucky, is married. Yet, as an old South Indian saying goes, you can build a marriage on a thousand lies. The more married people I meet, the more I am struck by the lies they flaunt. Lucky is in a marriage of convenience with her gay husband. She is also in love with her best friend, Nisha, who returns her love. Neither of their families can tolerate that kind of relationship, though. The rest of the book takes us through a ride through their lives, the stress on marriage, and the choices that break or make them.
While I felt for Lucky, I felt that there were long interludes, for example, with the rugby players that didn't serve to move the story forward. I also didn't get to see much of an understanding of the connection between Lucky and Nisha – they have met after four years, and there is rarely a conversation between them, apart from Lucky saying, "We fucked." Seriously, Sindhu – what's with the F word? Why not say, "They made love?" Or "They had sex?". Because of this obvious lack of connect, I too failed to connect with the story. But the story moves at a fast clip, despite the unnecessary passages, and you can't help but feel for all those who are trapped in society's tentacles.
Children's Literature
Water Babies: Charles Kingsley
Rating: 2

How does this book get classified as Children's Literature? The children of Kingsley's time must have been so erudite with a wonderful vocabulary! 'The Water Babies' is a quaint fairy tale, brimming with morals, and a fair bit of adventure. It is also a wonderful ode to Nature. I confess that I had no idea of half the things that Kingsley mentioned – I do not think he intended those in India to be reading this book! The English landscape is far different from my own!
Bear in mind that while you can consider this is a cute tale, the book dropped out of popularity to its derogatory references to the Irish, the Jews, and Americans. Kinsgley also uses large sections of the book as satire and as a lament against the changes he perceived then in society. Read this then as an adult with the awareness of its context with a child's awe and wonder at the world.
Classics
The Meek One: Fyodor Dostoevsky
Rating: 2
Our life is sometimes a summation of our choices. And the beauty is we have the freedom to choose again and again the choices that liberate us, and not the choices that bind us in coils of mistrust. Not the choices that block our heart, but the choices that allow the heart to flower. The question our life should ask: What do you choose? Do you choose love, forgiveness, compassion or hatred, resentment, and anger?
When I read 'The Meek One,' I was startled by the strange psychological horror that Dostoevsky has imparted to his characters. I didn't understand the book fully – but what do you do when you are wracked by remorse and tormented by the realization that you drove your wife to suicide? The narrator struggles with his compassion until it is too late. And how well we know that the hands of Death can bind no one! I didn't understand the strains that the marriage went through, but I was awed again by Dostoevsky's power of understanding the human mind.
A short read, but one that I need to puzzle over.
Rating: 5
I read this to celebrate my friend's birthday week. I haven't read much of Bengali literature, and my friend had long since urged me to read Bibhutibhushan's works. What an alliteration-filled name! I had desisted reading this saying that I can't even pronounce the author's name.
But finally, I did come around. 'Pather Panchali' was gifted by a friend, and it was lying there on my bookshelf. When I did start reading, I fell in love with Opu and Durga. Bandyopadhyay at once took me on a journey to the heart of rural Bengal. Here at once is a depiction of poverty in terms of material wealth, but the lives of Opu and Durga come alive with richness. The descriptive flair of the narration had me enthralled and the antics of Opu and Durga tugged at my heartstrings.
Of such is the flavor of life – the cycle of longing, desire, loss, and the cycle of finding happiness in the smallest things. Bandyopadhyay excels in creating a world that you can immediately immerse yourself in, and he does know how to get inside a child's head. Easily one of my favorite books with an ending that left me in tears. Thank you @Swati for pushing me to read this.
World Literature
Desperate Spring: Lives Of Algerian Women: Fettouma Touati
Rating: 4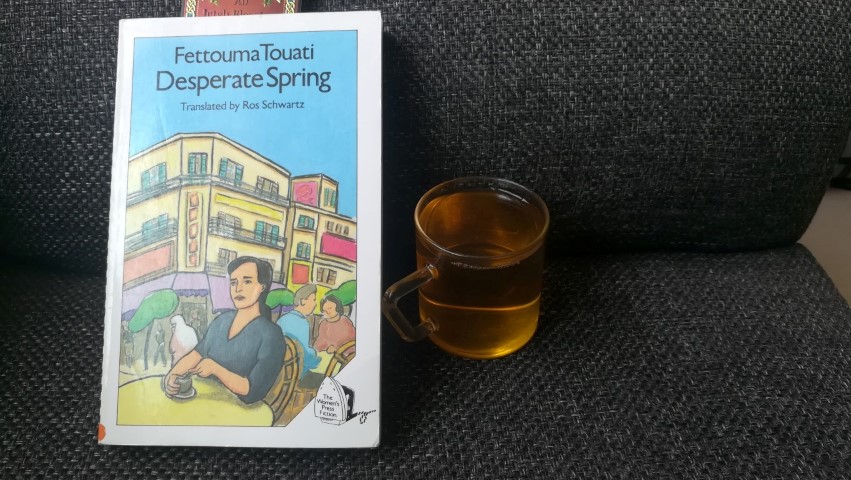 Desperate Spring was my first book set in Algeria. I have no idea if the translation has done any justice to the original, but the story shook me. Algeria in the 1980s, which is when this book was published, seems to have been hell for a woman. I wonder if much has changed now -hell is ourselves, Eliot wrote. But as I read the different lives of the Algerian women described in this book, I was astonished at the pain and despair.
This is not the sort of book you read to sound erudite, and fall in love with the quotes that we highlight on Goodreads. No. The language rarely rises above today's "Insta-quote-worthy" standards. Yet, if we can't travel, then reading should broaden our minds. It should fill us with the deepest empathy for those corners of the world that are filled with darkness, and bear in mind that the hand of darkness is more sweeping than ever before. I wept inside for the women who struggle to make their lives into meaning, who fight the battles for a life that I take for granted.
Please Look After Mom: Kyung-Sook Shin
Rating: 3
What is this book about? I usually avoid answering that kind of question, but here it is easy. The book is about regrets. All the regrets we can pile up in our messy hearts. When Mom goes missing, her family are plunged into a world of regrets. Why didn't they treat Mom better? Why hadn't they appreciated her sacrifices more?
Using a harsh second-person narrative, the author admonishes each of the offending family members. Well, not all. The husband and a career-loving single woman receives the most admonition. This use of the second-person annoys me. I can't seem to really get into a book that keeps saying, "you you you." I struggled through Sigrid Nunez's 'The Friend' because of that, and this was the same. The Mom here is a Super-Woman. Marvel Comics should have made their next superhero after her. She is the selfless woman who bears all the ills her family inflicts on her with heroic equanimity. Why do I have to practice Vipassana for learning equanimity? I just have to be a Mom. I think then I will just scale up society's ladders and become the pillar of grace and sacrifice.
Despite my sarcasm though, the enduring message of the book struck home. As I watch my own mother's health turn increasingly fragile, I am reminded of all the times she cooked meal after meal that no of us really appreciated. Regrets are sharp knives. Regrets are the cuts we inflict on ourselves. And reading this book made me want to lessen the regrets. Made me want to shout to certain souls, "Gosh sakes. Life is short. Don't leave it for tomorrow. Let there be no room for regrets."