I usually juggle my days between my apartment and my parents' home in Bangalore. There's no fixed schedule to this juggling, unlike before the pandemic when I visited my parents only on the weekends.
But no matter where I am, I step out in the evening when the heavy weight of the day has settled. I amble along for a walk, usually talking on the phone with someone. Last week, when I was staying at my apartment, I stepped out as usual. The apartment is what we call in Indian real estate parlance a 'gated community.' There's a lovely green park that faces my apartment. It surrounds the badminton and basketball courts. Green grass. Old trees. Warm benches. I always walk and up down the same path, tracing the same route, the echoes of the basketball-playing kids forming a gentle white noise to my conversation.
Sometimes, when I tire of walking, I find a bench to sit and swing my legs by.
That's when I noticed her the first time. I was facing the badminton court, and there she was, her back to me. She was cast against the setting sun, and she was utterly still. From a distance, I couldn't make out if she was talking on the phone, merely looking at her phone, or just doing nothing at all.
I finished my call and walked away. She never moved, gazing out into something I wasn't part of.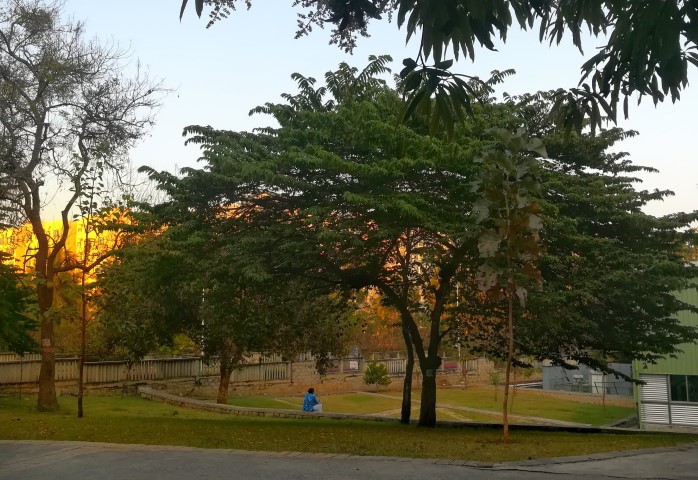 The next day, I saw her again. And the day after. For the week that I was there, she was there every day at the same spot.
One day, I took her place, walking over there earlier, wondering what she would do. She didn't turn up.
So, that's her spot, I mused. She either sits there or not at all.
The next day, I went back to a different bench, and there she was. Still as ever. Gazing out as ever.
I still can't make out what she is 'doing.' And then I catch myself.
What is this life that makes me question that someone may just want to be? Why do I find it 'odd' that you are looking out at life without a phone or music or conversation or the need to 'do' anything?
Do you see what we are doing to ourselves? We are filling our lives with empty busyness.
I took a deep breath and wished I could just be here too. To just be.
If you read this, I encourage you to go out and just be. For 2 minutes. For 5 minutes. For 1 hour. Time doesn't matter. You have the time, no matter what you think. If it's cold outside, then sit by the window. If it's hot inside, then find a tree, a plant or a cow.
If you think you don't have 2 minutes to spare, then I ask you to stop reading this and get in touch with me immediately. 🙂