In 2019, I sat for a month and wrote a YA novel.
It seemed to write itself, and after it was done, I sent a few letters to publishers when the manuscript wasn't fully formed. The expected rejections set me back, and I pushed the novel away.
But my friend didn't let go. She kept asking me what I would do with 'The Star Whisperer.' I wanted to throw the manuscript away. But. Somehow, a miracle editor in the form of Dagny entered my life. She read the plot – for a fee – but I would pay her twice for what she did. She could identify what wasn't fitting well and told me that the novel couldn't be friendship or romance – choose one, she said, and this rambling uncertain voice in the manuscript will stop. I had based the novel on the intense friendship between two girls with the confusion of a romantic attraction, but here was Dagny telling me to go all out and stick to one.
I was hurt. My ego reared its ugly head. But when better sense prevailed, I understood Dagny's wisdom. I sat and rewrote the manuscript novel – this time as a romance. I tried to put myself in the anxious minds of two teenagers who are fumbling with non-heteronormative attraction. Is it friendship? Is it attraction? How do you even know your 'identity?'
It wasn't easy. But I am glad I stuck at it. This year, I will push 'The Star Whisperer' out to publishers. I have easier ways – authors who are willing to put in a word to publishers. But I want to do this the hard way. Let the novel be read for what it is: a story of love and grief, and above all, love.
Today and all days, I send you love and light.
Here's a glimpse into what the novel is: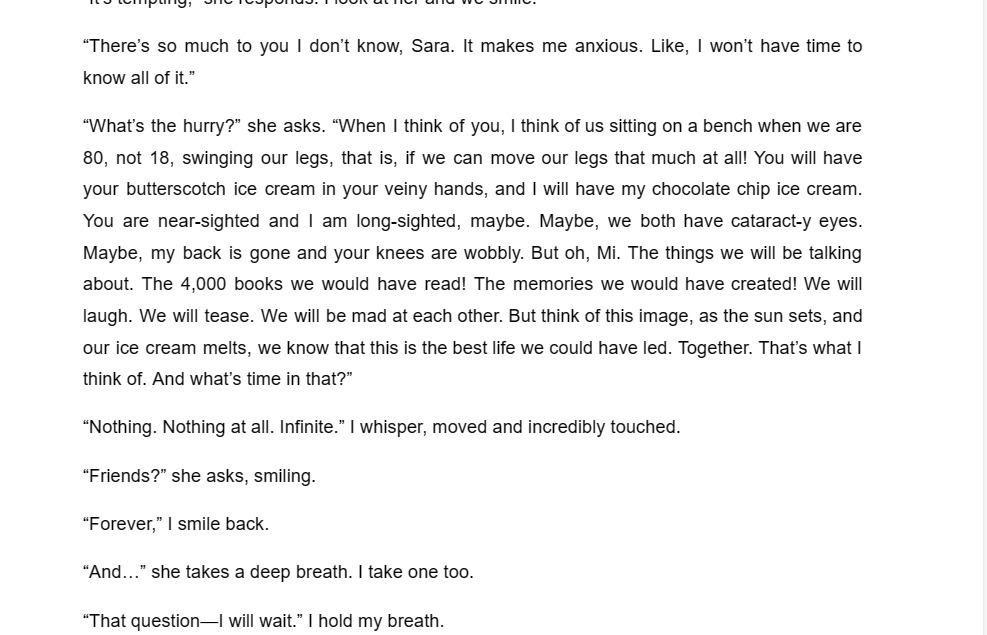 ---
---