The entrance to the St. Joseph's college auditorium in Bangalore's upscale Shantinagar was packed with vehicles. I had parked my car further down the road and I just waded in through the throng of visitors. Friendly volunteers guided me to the auditorium in front of which chair were set up. Kids were milling around. Adults like me were sitting around, conspicuously standing out with their gift bags. I stood uncertainly. Another volunteer walked over to me and took down my details. It took him some time to find my entry in his smartphone. I was nervous. Was this trip going to be in vain? "Just a moment, M'aam!" he grinned finally. He shouted to another guy who went scampering around to where the kids were. I looked around. There were some volunteers manning a table. "Should I go inside?" I asked the volunteer. "Just a moment," he repeated. And then. "Here he is, Ma'am! Your child," he said.  I turned around slowly. And there he was. Kubera stood in front of me, taller than me, the faint edges of a mustache. We shook hands, he gave me a yellow rose, and then we were hurried away to pose for a photographer. I was nervous and as is my wont when I am nervous, I spoke too much and too fast, overwhelming Kubera with questions. "How big you have grown!" I said stupidly. Not that I had ever seen him before. "Do you know Kannada?" I asked next. "How is everything?" I asked immediately after. He answered in monosyllables, and yet, as I stood there, smiling at the photographer, I was filled with a glow – this was my kid and this was our moment.
More than a decade ago, I was in the corporate field, making the regular salary with the same regular grimness of having to do something to 'make a living.' At some point, and I don't remember how, I came across World Vision's website. They had this scheme where you can 'adopt' a child and sponsor his education and basic needs for as long as you can. The children are mainly drawn from underprivileged communities where World Vision works. The money you give, just a casual entry on your credit card or Net Banking account, makes a serious difference in their lives. I had selected Kubera from all the other hundreds of kids because he was from Bangalore, he had looked cute as a 5-year-old, and he was born in June, just like me.
Over the years, I tried to keep up my monthly payments to him. I hadn't opted for the auto-debit option because I didn't trust myself to keep making the payments. Oh yes! This is not some feel-good story of how wonderful I am. No. I was worried if I can make the payments each month. There were times I went months without paying. In between, I would get cute cards from Kubera. I should have responded. I never did. I learned of his annual exams. The progress he was making. But I shared nothing of my life. Why, you ask? Laziness. I thought I would send that handwritten note. I just didn't. When I look back at my life, so much of it is just filled with laziness. The things that I thought I would  and never did. Truly, our biggest regrets in life are not what we did, but what we didn't do. But although, there were gaps in my payments to Kubera, he still remained there. I was his sponsor, and that's how it had been for a decade now. In between, World Vision had tried to organize a few child-sponsor meet-ups, but I had either been traveling or missed their mails. So, this was the first time I would meet this child of mine – not through blood or through a strong connection, but a child I had helped raise with his parents.
Back at the auditorium, I left Kubera and went inside. There was the obligatory round of speeches. I sat there, my purse on the chair next to me, and the two T-shirts I had bought as gifts to Kubera. The yellow rose was safely tucked inside the purse. I fiddled with my smartphone, waiting for the speeches to be over. The organizers had promised me that I would get to spend time with Kubera again. After the speeches, there were short dances and skits from the children. And then, it was time for the games to begin. "This is the time for the sponsors to play with your child," the emcee announced.
I heard shuffling behind me, and there he was – Kubera. He sat down and we spoke. His nervousness faded as we spoke and so did mine. I learnt about his favorite dish (lemon rice), his favorite movies, cricket stars, and he gave me glimpses of his family. His father is a mechanic and his mom is a tailor. He is the only child. Kubera has just finished writing the state exams. "What would you do after this?" I asked. "I want to get a diploma in automobile engineering and join my father," he says. I admonish him. "Get a degree, ok?" I say in as stern a voice you can muster. He nods. I open up and talk about my life too. He wants my phone number, but the organizers have told us not to exchange numbers. I am not sure why, but the old prim "let me not break any rules" girl in me obeys. I don't give my phone number, but I promise to send him a gift for his birthday through World Vision. And then, we play games –  we draw doodles and make paper kites. All too soon, it was over.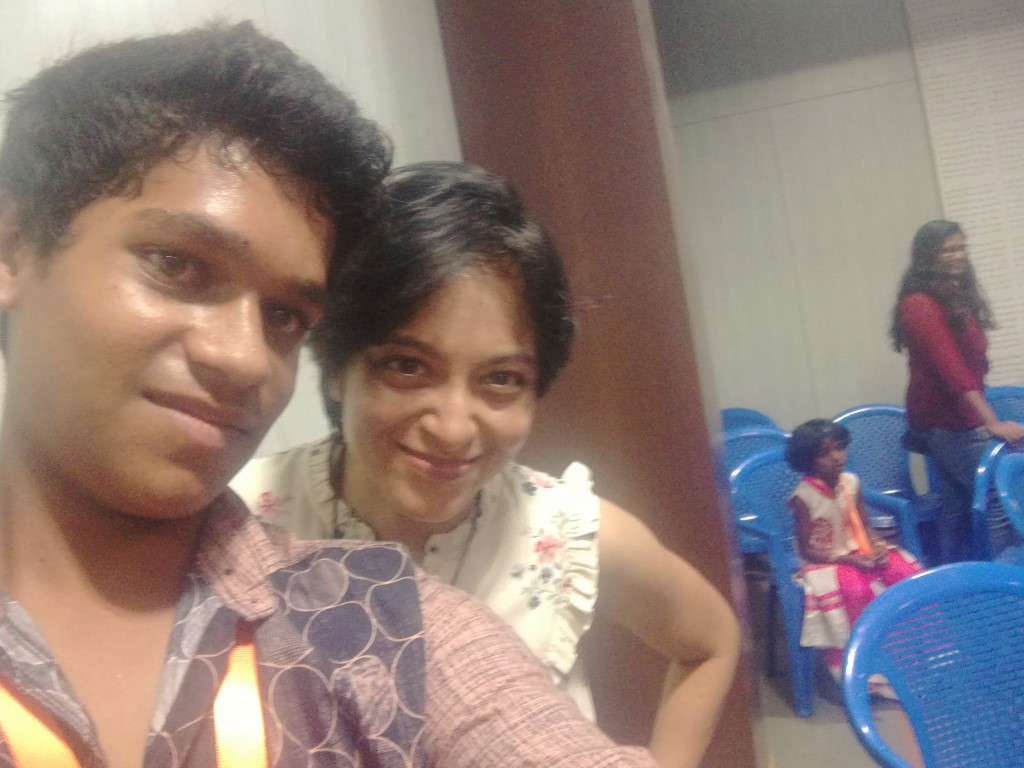 We are standing there, taking selfies. Kubera takes better selfies than I do. And then, one of the volunteers gently tells me it is time to go. "I will see you again," I whisper to Kubera, who holds my hand for a while and then lets me go.
I know I will. Because he really is a child of my heart.
---
If you are interested in sponsoring a child, you can start with as low as Rs800 a month. Check out World Vision's website here.