On Saturday, I wrote about happiness and harmony, and the three values that I believe will enhance happiness. It has been a week since I have had time to think about what I value and realize that I was living in an illusion of the past, a past that no longer represented the extraordinary future I wanted to believe in, and that belief sometimes needs to become a joint vision to become reality.
But remember for just now that I have been thinking of harmony.
After a rather tiring drive back from Kerala, I wanted nothing more than to just read on Sunday. I decided not to attend an old school friends' reunion, and I said no to attending a family wedding. I opened my laptop to write the next in the series on my values in life. Don't ask me how, but I somehow opened a website called LBB. And just like that, I found myself reading a blog post that caught my eye because it said ' 10 Things About Bangalore Even A Hard-Core Bangalorean Won't Know About.' Oh really? I thought. I stared in disbelief at the first one. A Taoist monastery in Bangalore?
I had been to a few Buddhist centers in Bangalore, including one run by a rather strange woman in white with a beautiful reclining Buddha, the famous Pyramid Valley Center off Kanakapura Road, and the Tibetan Buddhist Centers that used to run from various locations in Bangalore. But I had never been to a Taoist center here. I checked with a friend who was ready to join me and off we went.
The Hong Ci or Maitreya Monastery is in Bangalore's Austin Town, which used to be part of the suburbs of the British Cantonment. Like most parts of the Cantonment, Austin Town is dominated by Tamilians. I told my friend of the many times I used to go to the Infant Jesus Shrine here. Memories came flooding me from more than 18 years ago. We parked the car in front of the Dhrowpathi Amman temple. We glanced at each other. A temple dedicated to Draupadi? That was a first.
Rather annoyed, I noticed that the temple notice board was also in Tamil.
Further on, we crossed the Arul Sakthi Kaaliamman temple from where loud Tamil devotional songs blared. It was like I was walking in Tamil Nadu, not Bangalore, as I heard Tamil spoken all around me. Goats scrambled here and there. When we reached the monastery, the gate was closed. As we struggled with the gate, a kind man came up to us and showed us how to open the gate. Then, the door to the temple was closed. We peered inside through the windows to see the Buddha, lit up in a quiet light.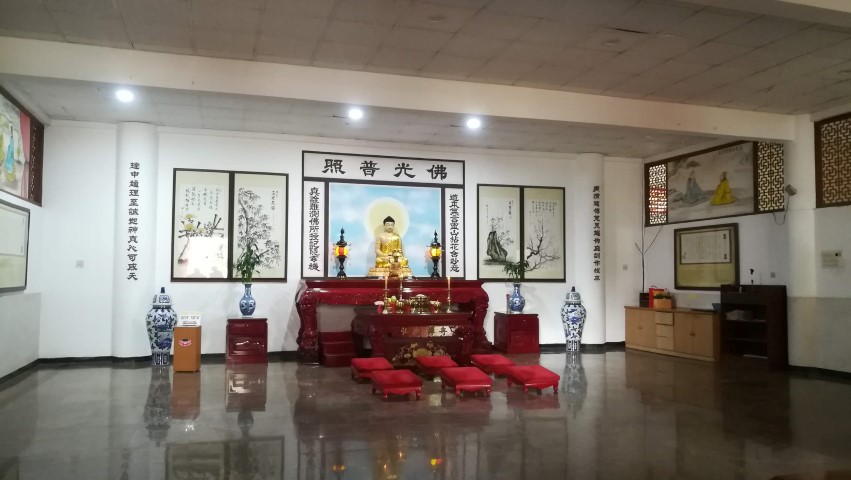 "I wish we could go inside," my friend sighed. "Well, let's be happy with what we have," I said as she showed me a lotus blooming in the pot in front. And that's when I spotted it. A little entrance to the right that had no door. "We can walk up these stairs," I said, but before we could, a man came out of the kitchen inside. "Welcome!" he said, smiling. "Did you come for lunch?" he asked. "Err, no, we came to see the temple," I said. "Sure, our guide will take you," he said. And then came the guide, Manoj, all soft grace and smiles. We climbed up, and the first man turned and spoke in, hold your breath, Chinese to Manoj. I rejoiced, practicing my rusty Chinese with him, wondering at the incredible odds of speaking Mandarin in a Tamil-speaking neighborhood in a Kannada state.
Inside, Manoj told us about the temple, which claims its origin from China, then moved to Taiwan before reaching Bangalore.
"We don't preach any religion. As human beings, we all have to learn to lead a life of compassion and kindness and the life of Tao, the inner path" he said. I startled as I heard these words – Leading a life of compassion and kindness is what I keep as my focal point in life, and one which I had questioned last week, when I thought I have not enough of it, and if I were to be honest, I was grumbling that I don't receive it sometimes.
As my friend knelt down in front of the Buddha statue, I took a walk around where giant plaques hung on the wall. I then smiled at the very first plaque.
Harmony! That was the first one I see. Manoj wants us to show the bigger temple on the upper level. I cross up, and I see this another plaque extolling harmony. "Ok, I get it," I say to the voice in my head.
We enter the second hall, and Manoj shows us the three Gods there, including the Laughing Buddha. On the right is someone I immediately recognize. Manoj notices me looking.
"That is Guan Yin," he says, pointing to the Chinese God I had had always had seen, loved, and made friends with from my time in China.
Guan Yin – the Goddess of Compassion who took a vow that she would never become a Buddha until she frees human beings of suffering. We sit on the cushion for a while and I think of the strange journey that got me here. From a random website to a locality I hadn't been to in years and finally this strange, beautiful temple where I meet Guan Yin – who urges me to be compassionate during a time that I am tired of being so. At a time when I am tired of always being told that the ordinary is enough. At a time when I am tired of not being accepted for my mistakes, my flaws, and for being a mess many times. At a time I was tired of being rejected. Tired of simply trying to be compassionate, understanding, and struggling in that attempt. Yet, this was the message:
When you are tired, just try more.
When you can't be kind, be kinder.
When you can't be harmonious, reach for harmony more.
When you want to be distant, love more.
When you can't find compassion anymore, reach for it more. And it will find you. In others.
No door is closed. We just find new entrances.
As we came out, the teacher came to greet us. She spoke in Mandarin, inviting us to come back for prayers during the coming full moon. "Harmony in the heart – that's what we need to find. Sometimes, you will find that you need others to guide you to that place of harmony. Receive them," she said, a smile lighting up her face.
Who was my guide today? That wonderful friend I have in the Universe. Harmony. Sigh. Look. I was gently guided to seeking kindness, compassion, and harmony even if I have lost faith.
I was given a little booklet there called 'The 54 Teachings of Guan Yin." I smiled. Ah, number 9, I thought. I turned to the last instruction – No. 54.
Have you been guided? What path of compassion are you taking? Have you tried to understand others? Have you opened your heart today? Have you suffered like Guan Yin did because she couldn't bear others suffering?
I may be tired, but I can only love more. I will try, Guan Yin. I will. I have the courage to reach for the extraordinary in the everyday ordinary moments of beautiful moments, connections, and journeys I take. Join me.
And did you know the Maitreya, which is the main deity in this monastery, is the future Buddha? And Maitreya comes from the Sanskrit, maitri, which means loving-kindness? Trust in the future because it is now.