A writer, they say, writes for an audience. We are supposed to be intrinsically vain. We are doomed if we have no audience. In today's world, that audience has expanded to having a social media 'following.' Can you imagine how many more plays Shakespeare would have written if he had an audience on Instagram? Imagine the likes that follow the scene where Hamlet converses with the ghosts? Smile. But although I may be vain (mostly about my hairstyle and clothes), I am not vain about my writing. I can write without an audience. Which is why I don't pursue the blogger method of gaining 'followers.' I don't leave comments for others to 'follow back.' I am happy writing for myself. And I am happy with those few who tell me they read what I write.
Which is why when my friend in Abu Dhabi (I am waiting for you to come back here, young man!) asked me about my best reads of the year, I thought I would convert my monthly summary of reading to a list of the best books I have loved for that month. So, from now on, you will find the books that touched me the most. Just the best of the best.
| | |
| --- | --- |
| Books read in November |  14 |
| Number of pages | 2,937 |
| Average book length | 209 pages |
| Average rating | 3.3 |
Top 5 Books I Loved
The Strange And Beautiful Sorrows Of Ava Lavender: Leslye Walton
Rating: 5
I had veered off YA and fantasy after a few underwhelming reads this year. I turned to 'The Strange And Beautiful Sorrows Of Ava Lavender' because I just couldn't resist that sort of title. How can you? Unlike some of the other mushy-pushy YA I had read, here is a work of art. Walton has truly carved out love's aching forms in this novel in a way that doesn't involve one young teenager with hair that just falls over his eyes the right way rescuing the melancholic other teenager.
Here you have hearts that are ripped out because love hurts. You see that your wings get clipped when love hurts. You see those who abandon their selves because love hurts. "Love makes such fools." Aye. I know. I have been a fool. But I wouldn't want to be wise in this instance. Combining magical realism with beautiful, aching prose, Walton has created a truly magical book. The sort of book where you can forget the world outside, and even the fact that your heart hurts where love once left its mark.
Padmavati: A. Madhaviah
Rating: 5
I am so happy that my friend has introduced me to the joys of Indian literature in translation. Picking up 'Padmavati' by Madhaviah seemed a bit of a gamble. There was hardly any information about this extremely prolific Tamil writer. And I am saddened at that. Written in the late 19th century, and finally translated into English only recently, 'Padmavati' is an aching portrayal of a world gone by. Giving us a peek into the Tamil Iyer society of that time, Madhaviah tackles issues that may have seemed revolutionary at that time, including women's education!
I am a bit unsure why he called it 'Padmavati' after one of the characters because the titular characters here are Narayanan and Gopalan. Tracing their life and friendship, you are taken into the world of Tamil rituals, secrets, and societal mores of that time. It's for this reason that I rate the book so highly. It's not meant to be a great story – it's a powerful narration where the translation seems to have been remarkable in preserving the original nuances of Tamil. I was at once gripped and engrossed, turning over page after page to find out "what happens." This is one of my favorite classic reads of the year.
On The Banks Of The Mayyazhi by M. Mukundan
Rating: 4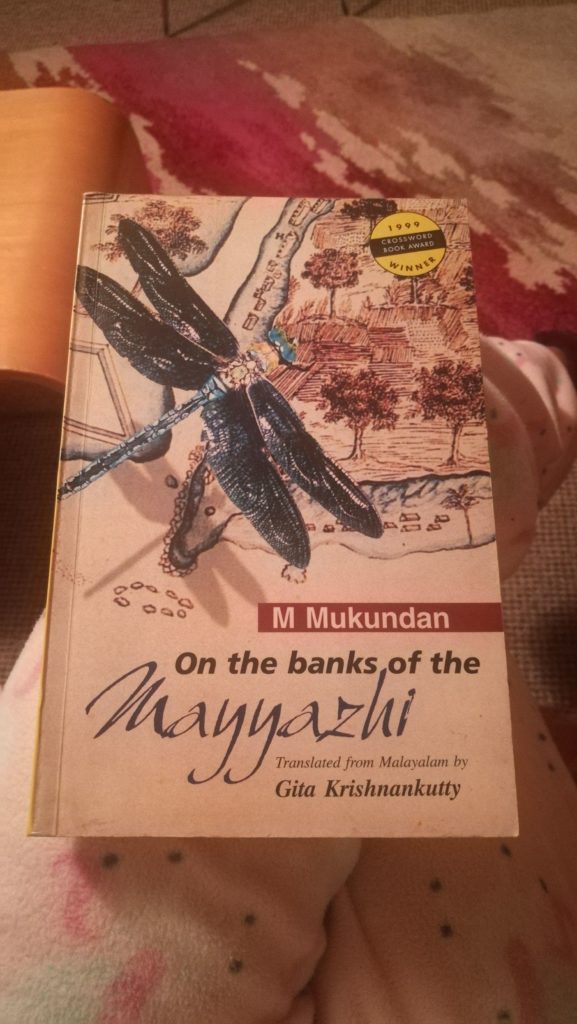 After reading this book, all I wanted to do was to plan a trip to this little town of Mahe. I hadn't known anything about life in this little once-colony of France. And I am glad I know now.
Our colonial education has ensured that we grow up knowing more about daffodils than gulmohars. I am one of those too. I scarcely know much of Indian literature, but I know a bit about American, Canadian, and of course, English literature. But. This is what I love about reading Indian literature – you don't have to wonder what a daffodil is. You know what a dragonfly is.
Set in the 1940s, Mukundan draws a haunting portrait of a town with a bunch of esoteric characters. Kurambi Amma was my favorite probably, with her addiction to snuff, and a passion for telling stories. Dasan is the young hero, portrayed alternately as the angry young man and the studious Indian who has to fulfill his family's dreams. In between are a whole host of characters that Mukundan uses with great skill to portray the times of that era so beautifully.
This truly is a masterpiece of Malayalam and Indian literature.
The Railway Children: E. Nesbit
Rating: 4
Reading Children's Literature is a bit like undertaking a journey into a gentler world. A world where a word like "loving-kindness" appears in a children's book! E. Nesbit's all-time classic 'The Railway Children' was fun to read even if the children described here seem too good to be true. When Bobbie, Peter, and Phyllis are forced to move to the house by the railway after their father's arrest, they quickly have to learn how to incorporate patience and loving-kindness into their life. I love that E. Nesbit extols certain values without sounding overly pompous.
True, some of the homilies on the role of women might reek of a certain Victorian mindset, but don't let that take you away from the book. I loved especially this quote:
"I think everyone in the world is friends if you can only get them to see you don't want to be un-friends."
In today's social media world how much of an anachronism is that sentence?
I'd Rather Be Reading: Anne Bogel
Rating: 4
Reading this together with my friend was one of the most wonderful experiences of this year for me. If you are a book lover, then I must tell you that you would love Bogel's heartwarming love letter and ode to the magic of books. Bogel seems like the sort of person I would love to discuss books with – not because she sounds like a frightful book nerd, but because she, like me, admits that she doesn't remember much of what she reads too. Ah. If one of the world's most famous book lovers says that, there is hope for me yet!
From recollections to how books shaped her life to personal essays on her reading habits, I chuckled, grinned, and smiled my way through this book. Lovable and to be treasured, just like a good book.
Most Disappointing Book Of The Month
Talkative Man: RK Narayan
I had to give a special award to RK Narayan's 'Talkative Man.' Although I love most of his books, 'Talkative Man' seemed like it was ghost-written. This book fell flat for me. Where was RK Narayan in this? Of all the books I have read of RK Narayan, this was probably the most underwhelming.
Usually, Narayan's words make me chuckle – the sardonic humor a treasure to read. And usually, somehow he manages to wring your heart as well. But 'Talkative Man' did none of those things. Surely, RK Narayan wrote this in his sleep?