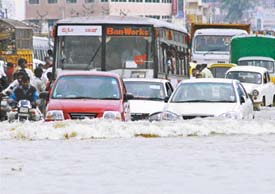 It's been a long long week or so it seems. The last entry here was on Saturday and I never thought it will take me another week to post another.
It's been a week of rain here in Bangalore. Rain rain rain…washing through the days, a welcome cleanser of the soul but here in this sagging city loaded with poor roads, a drop means disaster and incessant rain as it has been over the past few days means nothing else but chaos. I left work at 5:30PM yesterday and reached home at 9PM. A mere distance of 14 kilometres but a harrowing journey that I won't forget in a while. I step out of office – it is raining. A light rain but I wouldn't know until well later that it had been pouring since afternoon. Strange isn't it …that we surround ourselves with glass but that the windows are shuttered and you never know the light of day or the time of night?
I walk past Rest House Road, and reach the beginning of Brigade Road, all the time trying to beg, plead and cajole auto rickshaw drivers to take me to my house near Mysore Road. Not one agrees. I walk further. Paddles of water splash around my feet. Vehicles move slowly along, trapped like snails in a shell in cascades of water. At another time, it would have looked beautiful. A city forced to slow down – being washed clean, but not this time. Here, it was merely an irritation. I walk more, past Coffee Day, and Eva Mall, past the old Church, past lifestyle stores and electronic shops – still not a single rickshaw.
I reach the colonially named Richmond Road, soaked to the skin, shivering in the slight chill, and compete with other people who are also waiting for these angels in yellow and black to ride us through the rain. I walk further down – it is almost 7PM now, and reach a bus stop. I climb into the first bus that didn't seem to be packed with people like sardines in a can – and reach Bangalore's Market. This KR Market – it is the centre of the city's flower and vegetables' business. Immense and haphazard it also overflows frequently with people, waste and refuse. Today it is overflowing all of that and more – water. More splash splash. In the dark, the area is unsafe. People throng through. Today is Ganesh Festival day – last minute festive shopping but there are flowers strewn on the road. Bitter petals floating in the day's ruins of rains. I stand at a corner, waiting. Waiting for a rickshaw to take me to the next step. It is already 8PM. I get another bus that is going to another terminal. I take that. Get down…try for another rickshaw. Now, I am just 7 kilometres away from home – and I wonder if I should try walking the distance.
Miraculously, the driver agrees. I sit down…and sink into the hard seat. Yet, as we drive down, the police have barricaded parts of Mysore Road. The entire stretch has been flooded – water has overflowed from the storm water drains, killing an old woman. We turn back, round through another alley, cross streets that echo with emptiness and desolation. The only sound being the sound of the wheels splashing through pools of liquid. Half an hour later, we reach the next stretch of Mysore Road. This time, there is are no about turns. The road is jammed with traffic stretching for kilometres.
The driver though – I know more about him now than I do about my closest friends. He chats away – passes a comment on the "unhealthy" work I do, sitting in front of the computer, talks about how he came to Bangalore 15 years ago – about how he went elsewhere in the morning and saw a lake breach its walls and cars float into its waters – and in a rare display of chivalry, says that he agreed to take me as I was a woman. "If it were a guy, Madam, I would have told him to get off," he says with a grin, two front teeth missing. I was tense, I was worried, and I was frustrated – it was Friday, and I didn't want this. Not 4 hours on the road. Not this slow crawl through miles of vehicles. Yet, through the rain, I realized that there exists a little kindness in strange hearts – that driver dropped me safely – and as I reached home and sank into a warm bed, I wondered about him – having to make that agonizing crawl all the way back through a city maddened by rain.
So today I sit – writing mails that couldn't be written as the Net was down all week. The rain has stopped for now. But I dare not step out – perhaps a book to read, and a cup of green tea to sip, and life would be perfect…if only Joby was around too. I just want to rest my shoulders – they ache if they don't rest against little bum.
I wonder too what lies in front after these 60 days – I am afraid to hope – for it is a dangerous thing, and I am afraid to want – for want feeds on need – all I can do is push it away, and think that was has already been a beautiful is.
I wish you, my darling Joby, a very happy Ganesh festival. May the Remover of Obstacles remove all stones and pebbles in your path.
The team in our office has christened the glass room to "aquarium" after being inspired by Do! 🙂